LOGAN LYNN // NEW MONEY \\ OUT NOW!
&nbsp
(Originally Published on The Huffington Post on 10/22/2014)
This past Sunday night in Portland, GIRLS star and Not That Kind Of Girl author Lena Dunham completed her ten city book tour, "Not That Kind Of Tour", with an intimate conversation with Portlandia star, Sleater-Kinney rock icon and Portland royalty Carrie Brownstein, live on stage at the Newmark Theatre.
Sponsored by Powell's Books, the event sold out in just six hours — and it's no wonder. Both of these smart, funny, talented women are at the top of their game right now, each with hit TV shows, and each having just finished books; Carrie's book, as revealed by Lena during the conversation, is en route.
Local Portland comedian JoAnn Schinderle opened the evening with a hilarious set. Dunham called her "fucking hilarious" when she took the stage, and then proceeded to read two essays from her new book, which is currently enjoying the #1 position on the New York Times Indie Bestsellers List (no big deal).
After talking about her many physical ailments while on tour, asking the audience if we could see her underwear (adding "Not that I care, I just want to know"), Dunham boldly read her strange, brave, beautiful truth to the crowd of (mostly) strangers, eventually inviting Brownstein to join her on stage.
The two are close friends — texting each other frequently in the midst of Read the rest of this entry »
I had a great time at Q Portland last week. Read my review of the show on HuffPost Entertainment HERE. It caused the following Twittergasm, as well:
(Originally Published on The Huffington Post on 1/2/2014, HuffPost Entertainment Section)
Portland's Crystal Ballroom — an iconic, historic entertainment landmark for the city since 1914 — is celebrating its centennial birthday on Tuesday, Jan. 21, 2014.
To ring in the anniversary, McMenamins Crystal Ballroom has amassed an epic, 100-night celebration, appropriately called "100 Nights!" The party has been going strong since this past October and keeps churning out banger shows nightly until the 21st, with a special performance by Colin Meloy of The Decemberists.
Any band who has ever played the Crystal Ballroom, any person who has every been to a show in that special place, holds some piece of this rich, 100-year history as their own — myself included.
This past week I caught up with Carrie Brownstein (Sleater-Kinney, IFC's Portlandia), Courtney Taylor-Taylor (The Dandy Warhols), Calvin Johnson (K Records Founder) and Jimi Biron (Music Director, Crystal Ballroom) to chat about the 100 nights of shows, what this birthday means for the NW music scene, and some of the more memorable moments from the ongoing Rock and Roll spectacle that is Portland's Crystal Ballroom.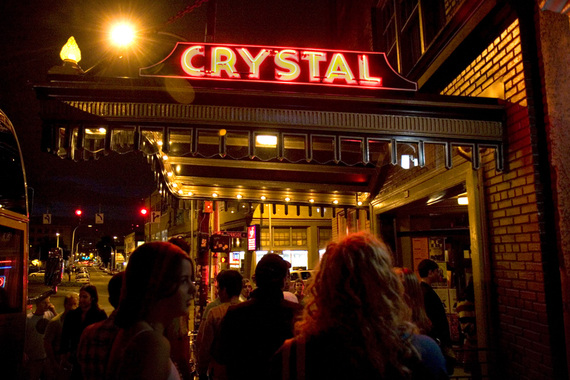 Read the rest of this entry »
My cover of "We Can't Stop" (Miley Cyrus) is featured today on Huffington Post Entertainment and HuffPost Gay Voices!
I'm in really good company on the Gay Voices homepage today as well. Click the screenshot below to read the article, or keep reading below for the transcript:
From The Huffington Post: (9/16/2013)
"Logan Lynn Covers Miley Cyrus' 'We Can't Stop' (VIDEO)"
Portland-based openly gay musician Logan Lynn is known for his dance and electronic music, but lately his sound has taken a different direction with his latest single, "Everything You Touch Turns To Gold".
Now he's released a free download of his cover of Miley Cyrus' hit single, "We Can't Stop" that continues his foray into a bold new direction.
Lynn has been releasing music since 2000. He gained national recognition when his music and videos were played on Logo TV, and while he may be known for his electro-emo music, on his website, he speaks about his new sound and breaking away from the music for which he's historically been known:
'You may notice that this cover (and my latest single, released 8/13) are a bit of a departure from the electronics I've become synonymous with over the course of the past 15 years. These are just a glimpse into the new direction I'm headed in sonically. I have to keep changing things up or I get bored. This round I've put down the dance music a little and Gino has been playing all kinds of instruments instead. It's been turning out really warm and special so far as a result. I figured this cold, dead pop song was the perfect thing to try and bring to life. Don't get me wrong — I actually really like Miley's version, too…but it's not particularly warm.'
So if Cyrus' song has grown a bit stale after hearing it played everywhere for the past few months, then check out Lynn's version to get a "warmer," different take on this mammoth hit."
(Originally Published on The Huffington Post on 8/20/2012)
I was recently introduced to Los Angeles-based electropop outfit Father Tiger by my friend/collaborator Jeffrey McHale, who directed both my "Bottom Your Way to the Top" video in 2009 and my "Quickly as We Pass" video in 2011, and who has now directed Father Tiger's debut video, "Shell," which just premiered this past week.
The video was made entirely with the photo app Instagram, and it is a real piece of genius. Jeff worked with artist John Parot (from Bravo's Work of Art: The Search for the Next Great Artist), who also did the illustrations for our 2009 collaboration.
Watch Father Tiger's video for "Shell" below and be amazed:
(Originally Published on The Huffington Post on 3/30/2012)
I'm going to Los Angeles this weekend to meet my man's parents for the first time. I'm really excited to get to know the people who created this extraordinary creature I love so much, and it feels super special to have been invited to accompany him on the journey. So romantical!
At any rate, I figured that because I'm spun out all giddy-like on matters of the heart at the moment, it would be the perfect time for the second round of my ongoing interview series about love and relationships, "Queer Celebrities Need Love, Too." For this edition I reached out to Imperial Teen's Will Schwartz, original Hole drummer Patty Schemel, TV personality Philip Tetro (from MTV Canada's 1 Girl 5 Gays), transgender comedian Ian Harvie, New York Times bestselling author (and Madonna's brother) Christopher G. Ciccone, actor PJ DeBoy, radio talkshow host (and former Playgirl president) Daniel Nardicio, and Sexpop god Mario Diaz. They all weighed in on the same five questions:
1. If you had to sum up the entire history of your love life in one word, what would it be?
2. What's your favorite on-screen romance of all time? What was it about their love that you liked?
3. Name something that's a deal breaker for you in relationships.
4. What does a perfect day look like to you? Is it spent alone or with someone else?
5. If you could pick a theme song for that day, what would it be?
Here's what they had to say about stuff (and things). Read the rest of this entry »