LOGAN LYNN // NEW MONEY \\ OUT NOW!
&nbsp
(Originally Published on The Huffington Post on 10/22/2014)
This past Sunday night in Portland, GIRLS star and Not That Kind Of Girl author Lena Dunham completed her ten city book tour, "Not That Kind Of Tour", with an intimate conversation with Portlandia star, Sleater-Kinney rock icon and Portland royalty Carrie Brownstein, live on stage at the Newmark Theatre.
Sponsored by Powell's Books, the event sold out in just six hours — and it's no wonder. Both of these smart, funny, talented women are at the top of their game right now, each with hit TV shows, and each having just finished books; Carrie's book, as revealed by Lena during the conversation, is en route.
Local Portland comedian JoAnn Schinderle opened the evening with a hilarious set. Dunham called her "fucking hilarious" when she took the stage, and then proceeded to read two essays from her new book, which is currently enjoying the #1 position on the New York Times Indie Bestsellers List (no big deal).
After talking about her many physical ailments while on tour, asking the audience if we could see her underwear (adding "Not that I care, I just want to know"), Dunham boldly read her strange, brave, beautiful truth to the crowd of (mostly) strangers, eventually inviting Brownstein to join her on stage.
The two are close friends — texting each other frequently in the midst of Read the rest of this entry »
(Originally Published on The Huffington Post on 1/2/2014, HuffPost Entertainment Section)
Portland's Crystal Ballroom — an iconic, historic entertainment landmark for the city since 1914 — is celebrating its centennial birthday on Tuesday, Jan. 21, 2014.
To ring in the anniversary, McMenamins Crystal Ballroom has amassed an epic, 100-night celebration, appropriately called "100 Nights!" The party has been going strong since this past October and keeps churning out banger shows nightly until the 21st, with a special performance by Colin Meloy of The Decemberists.
Any band who has ever played the Crystal Ballroom, any person who has every been to a show in that special place, holds some piece of this rich, 100-year history as their own — myself included.
This past week I caught up with Carrie Brownstein (Sleater-Kinney, IFC's Portlandia), Courtney Taylor-Taylor (The Dandy Warhols), Calvin Johnson (K Records Founder) and Jimi Biron (Music Director, Crystal Ballroom) to chat about the 100 nights of shows, what this birthday means for the NW music scene, and some of the more memorable moments from the ongoing Rock and Roll spectacle that is Portland's Crystal Ballroom.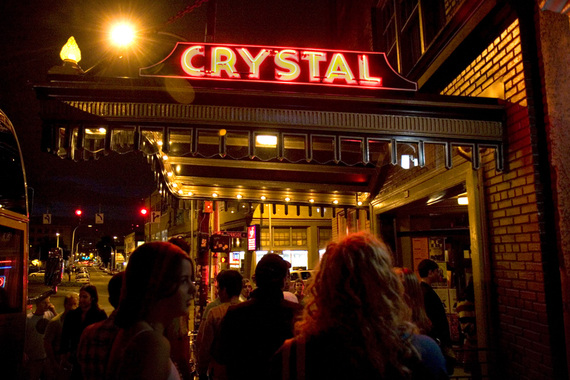 Read the rest of this entry »
Spent some time with the cast and crew of IFC's "Portlandia" this past week. Big thanks to Fred Armisen, Carrie Brownstein, Chloë Sevigny, Jim Gaffigan, and all of the crew for being so cool.
Here's a picture of me and Fred at Q Center.
😉