LOGAN LYNN // NEW MONEY \\ OUT NOW!
&nbsp
It was perfect.
📸 Polaroid i-Type Film, 2021 // #Oregon
Thanks, science. ❤️
📸 Polaroid 600 Film, 2021 // #GetVaccinated
I'm the guest on this week's episode of the Grief Gratitude & Greatness Podcast. We chat about life, fucking up, making things right, letting go, and more. ‬
‪Have a listen HERE, or click on the image below.
I love it when the Bert to my Ernie, the Howard Stern to my Robin Quivers, the Tweedle-Dee to my Tweedle-Dum, the Chip to my Dale, the Sonny to my Cher, the Bette Midler to my Barbara Hershey (this exercise could go on for days) motherfuckin' Bob Sugar himself, Jay Mohr booooobie comes to town!
Vacation shenanigans for days, y'all. 🙂
If you've ever wanted to watch Jay Mohr shave while I sing A cappella spirituals in the background, now's your chance:
Watch Jay (in character as Roger Darling) interview me in my living room here:
PART 1

PART 2

And this very important Run The Jewels V. Jay Mohr Lip Sync for Your Life: Read the rest of this entry »
This month marks the 6 year anniversary of my being free from the crippling addiction to cocaine, alcohol, and crack cocaine which almost took my life in 2008.
Thank you to my sweet family and friends for standing by me through the 16 years it took me to land after taking off. I owe every minute of this hard fought-for life I live every day now to the hard fought-for love each of you gave me then, and the seemingly boundless compassion you have shown me in the years since.
If any of you reading this are struggling with addiction or are feeling hopeless about ever feeling better, please message me here or send me an email at Logan@LoganLynnMusic.com — I am happy to help connect you to resources where you live anytime.
XO
Logan
Mother's Day today has me thinking about my own mom, how our relationship has changed over the years, and how lucky I feel to be where we are today together. Our story is one of deep struggle and even deeper joy, all held together by an unbreakable bond which was no doubt formed lifetimes ago.
My mother has always been a strong woman. Growing up in the same oppressive church that I did, she was held down for many years by traditional religious ideals and company which didn't allow her to identify with this power, but those of us who have known and loved her all this time know that she is a beautiful, powerful force of nature, and she always has been.


Her loving sweetness, her well-read brain, her deep, complex inner life, her quick wit, her fierce loyalty, her earnest desire to be good; to know and accept the truth, and to be forgiving when others fall short, all make up her character and feed into a bright light about her. She brings this light with her when she enters a room, and all who find themselves in her presence are illuminated by it. I have watched this happen in dark corners of buildings, as well as in the darkest corners of my heart, for my entire life.

I learned how to cry from my mother; how to get in touch with my raw feelings and let them out when the world is too mean to keep them in. These skills have been life-saving at different points in my being here. My experience of growing up gay in the Midwest, even sometimes from those closest to me, was that there was no room in the rural Christian landscape for a sissy like me. My mother never once made me feel this way. She took me to dance class when I wanted to go, and she sat proudly at my recitals. She bought me Barbie dolls when I wanted them, and while I'm sure it must have scared her, she always seemed to celebrate my being different.
When I was older and troubled from the battle scars of my youth, my mother once again loved me through her fear. She marched bravely toward death as Read the rest of this entry »
(Originally Published on The Huffington Post on 7/13/2012)
My grandfather is turning 100 years old next month, which completely blows my mind. I'm flying to South Dakota with my partner to do strange Americana activities at Mt. Rushmore and then celebrate his century of life with everyone on my mother's side of the family. It's going to be a very special time, and I am really looking forward to it. I wish my aunt could be there with us, but this year has brought with it big heartaches, as well, and she is no longer here. It's devastating to think about my grandpa having to endure losing his daughter so late in his life, but he is a very wise old man, and he has handled her passing better than any of the rest of us.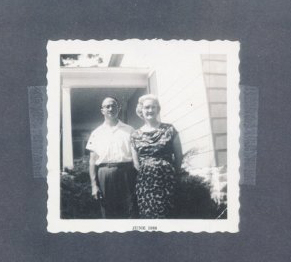 I suppose that sort of deep understanding about death is to be expected of a person who has lived 100 years. He has already said goodbye to his grandparents, his parents, his cousins, his siblings, all his friends, and his wife. He is at peace with having loved and lost, and he seems to be fine with his own mortality. Clearly, this man knows something about life that I have yet to learn.
Read the rest of this entry »
"Girls Sold Out" Music Blog ran a piece today called "The Holidays With Logan Lynn". To read the post over at their site, CLICK HERE or you can check it out just below.
From "Girls Sold Out" (12/9/09)

"From now until Christmas, Girls Sold Out is asking some favourite artists all about the holidays. First up, is the wonderful and talented Mr. Logan Lynn…
GSO: Which holiday do you participate in, Christmas, Chanukah, etc?
LL: I participate in any holiday that involves me getting fed and being given
presents. My family celebrates a very loose Christmas-type-celebration
but it's more about peace and love and caloric intake than the baby Jesus.
GSO: What are your plans for the holidays?
LL: I'm going to be in Portland so I'll be spending much of it with my
extended Dandy Warhols family, which starts this Saturday and continues
for the next few weeks. Those guys don't fuck around when it comes to
having fun on holidays. They are doing these "Italian Christmas" shows in
Portland and Seattle this weekend and then Read the rest of this entry »
It's October 14th and I am turning 30 tomorrow. I'm feeling good about reaching this new age and am SO glad that my twenties are on their last leg as I am writing this. I woke up really early today, thinking about these 30 years I have spent on this planet so far…wondering how and why this has all happened the way it has, wishing I could change pieces of the past, missing people & parts of my life which I broke to bits or have lost along the way, and hoping I am making decisions now that will bring bucketloads of peace my way in the future.
I also have an overwhelming sense of gratitude for making it through the fire, for sorting things out with my family, and for letting go of the all-encompassing darkness in my life just in time to turn things around. I got out while I could still see the light, and now it is all around me. Thank you to all of you who loved me through the 16 year valley of drugs and despondence…even when I could not feel your love or love you back…it was you who brought me through safely with your refusal to quit on me, your persistent love, and your fierce determination to keep loving me until I could feel it. It worked. All of that love you gave that I could not feel at the time, I am feeling now, with a clear head, in retrospect.
I'm in a constant state of atonement these days Read the rest of this entry »