(Originally Published on The Huffington Post on 3/5/14)
The Pacific NW has no shortage of music festivals, and Seattle boasts some of the region's largest and most well-attended. Starting a new festival in this neck of the woods is no small feat, but last year a handful of queers from the Emerald City did just that. The result was 'Mo-Wave, Seattle's queer music and arts festival — and it was a huge success.
Now in its second year, 'Mo-Wave is back with another epic lineup featuring over 20 queer musicians (myself included) alongside dozens of visual and performance artists from all over the country, descending on stages at Chop Suey and PONY Seattle April 11-13.
Named "Best Festival" in its first year by Seattle Weekly, 'Mo-Wave is unmatched in its eclectic blend of art and diverse queer culture. This mix immediately struck a chord with audiences, and one only has to take a quick glance at this year's showcases to see that the 'Mo-Wave crew are back at it. The festival's mission to "showcase raw queer talent" through "a live and loud acknowledgment that our people do not fit into the simple stereotypes projected onto us by mainstream culture" is perhaps a tall order — but the team who pulled off year one has since grown, and they are about to top themselves. That's right — I said "top themselves." Chuckle all you want.
The 2014 lineup includes MX Justin V. Bond, Christeene, Zebra Katz, Carletta Sue Kay, Tacocat, Slava Mogutin, Logan Lynn, Ononos, Night Cadet, Boy Funk, Death Metals, Dust Moth, CZARL1NG (featuring Members of The Need/Grass Widow/Broken Water), Adé, Frederic Fleury, Narcissister, Jordan O'Jordan, L'Orth, Brian Kenny, LoneSome Leash, Tenderfoot, Half Breed, Sashay, Palo Verde, Spear and Magic Helmet, Frank Correa, Michael Horwitz, Your Heart Breaks, Belles Bent For Leather (Judas Priest Tribute), Queen Mookie, Amoania, Glitterbang, Hypnotits, Brian Brittigan, Zackary Drucker, MKNZ, Earl Dax, Crypts and more!
This week I caught up with 'Mo-Wave creators Jodi Ecklund, Marcus Wilson and Seth Garrison to talk about the Seattle music scene, queer power, diversity and what's coming for us next month when all of these talented, inspired creatures collectively bring 'Mo-Wave's tagline "Queers Make Waves" to life.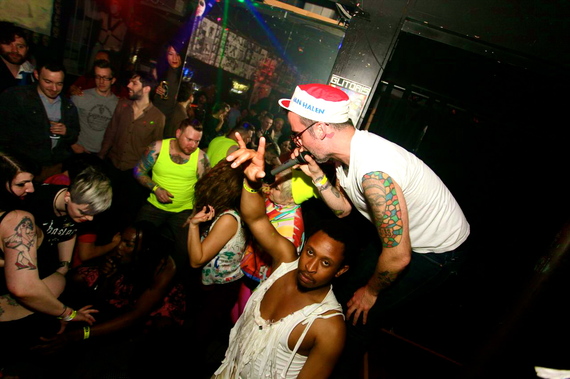 Logan Lynn: How did 'Mo-Wave come about?
Jodi Ecklund: The groundwork was laid at the Funhouse — an "anything goes" venue, and I was given free curatorial reign every year. It ended up being the only gay pride event where my clan and I felt comfortable. Everything else had a corporate gay pride tone. When we found out the Funhouse was getting torn down we started calculating how to create a new space void of corporate creepiness and full of punk rock goodness.
Marcus Wilson: 'Mo-Wave has been a group effort since day one. Most of us have known one another for years as friends and co-conspirators in the queer and indie Seattle music scene.
Seth Garrison: I knew both Jodi and Marcus from all the work they've done in the Seattle Queer scene — they are both such visible and vital parts of queer culture in Seattle, and I was thrilled to be able to pitch in and help make 'Mo-Wave happen.
Lynn: What is it about these three days of queer music and art that makes 'Mo-Wave stand out over all the other festivals?
Ecklund: Diversity. Not just checking ethnic boxes, but the diversity in the genres. The boxes check themselves. In a traditional booking environments you don't have the freedom to blend heavy metal with hip hop, but since queerness is the common ground we have the freedom to blend genres that traditional festivals don't. In my day job as the talent buyer at Chop Suey I always have my eyes on up-and-coming talent, which means 'Mo-Wave gets access to artists who may be just under the radar. 'Mo-Wave also provides upcoming and coming artist exposure & stands out as a festival because we have a commitment to not just book "the hottest gay act from here or there." We seek out and keep our ear to the ground and book only based on talent so 'Mo-Wave is accessible to emerging artists in a way that other festivals may not be.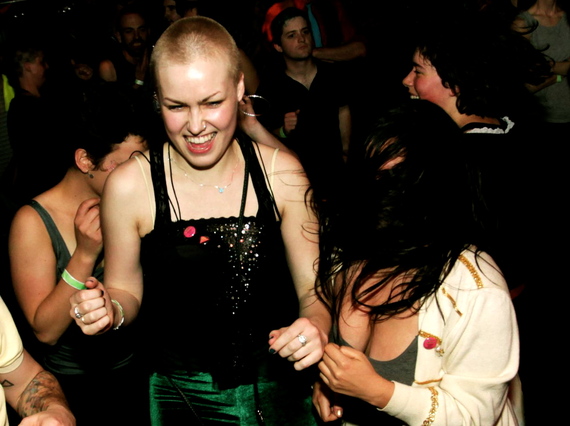 Wilson: 'Mo-Wave is definitely the only event of its kind in Seattle, so there's that — but also I think that, unlike most of the other larger festivals (Block Party, Bumbershoot, City Arts) in our first year we were able to present a wealth of impressive local, as well as internationally renowned bands, performers and artists of many different genres and mediums while still maintaining a genuine home-grown ethos and aesthetic. I think we all wear our hearts on our sleeves and the excitement, love and admiration that we have for the artists we are presenting is extremely evident. Our primary aim is to curate and expose the public to these incredible, under-appreciated, visionary talents, as opposed to just booking a slew of hip-at-the-moment trendy acts and guaranteed safe-bet veteran bands, which I think is the route most festival programmers take.
Garrison: I also think there's a rawness to 'Mo-Wave that makes it stand out. The energy at last year's festival — this tangible and dynamic feeling that everyone was welcome and that we truly were celebrating such rad and diverse talents — was an obvious and distinguishing factor. I know Jodi and I got a little teary on the second day of the festival last year. Just watching everybody come together like that was an inspiring moment.
Lynn: It feels to me like 'Mo-Wave is as much about queer visibility and empowerment as it is about music and art. Am I tripping?
Wilson: I feel like the majority of queer artists and events take one of two positions; either they try to divorce themselves as much as they can from the fact that they are gay to attract a larger straight/mainstream audience, or they go the opposite route and make their entire identity about being GAY, as a lot of gays will support gay artists and performers simply because they're gay, regardless of the merit/content of their art. We seek to go down neither of those roads. Our aim is to create a venue for talented, visionary, proudly queer artists to present their work to other queers and their allies — to hopefully expand their fan base and show the world what a wealth of groundbreaking, inspiring, immensely entertaining queer musicians and artists we are fortunate to have making art for us right now!
Garrison: I think you and Marcus are right on. Personally, I think one of our main missions is to stress that queers are a distinct and powerful voice in art and society. I feel that queerness is often underemphasized as a primary component in the art and music that us 'Mo's produce. I think that it is precisely our resistance to certain cultural norms that makes our work powerful.
Lynn: Totally! I'm thrilled to be performing on day three this year, alongside MX Justin Vivian Bond and Night Cadet! Talk to me about the 2014 lineup.
Ecklund: This years line up is exciting because we have bigger national acts. This is a step up from our still-amazing regional acts showcased in 2013, which will still be an important precedent at 'Mo-Wave.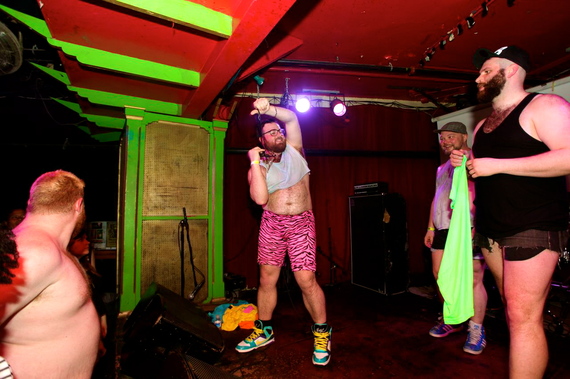 Garrison: Jodi has done an amazing job securing talent for this year. We have upped our game, taking more financial risks to bring performers to Seattle who haven't been here before. It's important to us to keep exposing people to new and different things.
Lynn: Yes. Clearly, diversity is a key component in what makes the festival work so well. What's your process for ensuring this diversity happens during booking?
Ecklund: "Diversity" is important to clarify in a music festival. The process I use in booking 'Mo-Wave is each member makes a hit list and we pursue those artist that move us. We strive for talent first and foremost. Secondly, we tend to focus on diversity of genres. This is important, since we don't set out to ensure we have a number of people from people of color, we look for cross-genre talent and the diversity happens organically.
Garrison: I agree that the diversity occurs organically. It's a beautiful thing that the queer pool we have to choose from is in and of itself fairly diverse.
Lynn: What are some of your favorite moments from last year's Mo-Wave?
Ecklund: My favorite moment was when we went from Big Dipper (gay bear rapper) to Gaytheist (Portland metal band). It was a bit of a risk stylistically. I feared folks would not respond to the transition in genres yet it went off smoothly. Team Dresch covering the Smith's "Big Mouth Strikes Again" was one of the highlights for me.
Wilson: Definitely Dynasty Handbag's jaw-dropping, gut-busting, WTF performance, which left the entire crowd enthralled, confused, dumbfounded, and definitely not bored! I think it is artists like this that epitomize the breadth and diversity of talent that 'Mo-Wave represents.
Lynn: What can we expect from this year's 'Mo-Wave festival? Any predictions?
Ecklund: One can expect a multitude of amazing queer talent. Obviously our headliners are going to blow minds. Additionally, I am really excited to see the ladies from Hells Belles pay tribute to one of my favorite metal bands of all time, Judas Priest.
Wilson: Christeene will convert hundreds of new devout worshippers, and undoubtedly, a few shocked and appalled nay-sayers. Christeene also embodies a lot of 'Mo-Wave's core ideology and intent, to expose the masses to new, exciting and deeply unusual art and experiences — and it ain't for everybody.
Garrison: Amazing times, great music, shenanigans, rowdy revelry and sweaty dance sessions! I also envision weepy admiration for the one and only Mx. Justin Bond and a revived fervor for Carletta Sue Kay, who is a mesmerizing performer.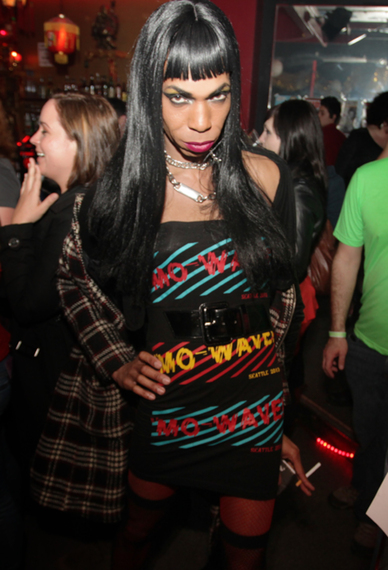 All photos taken at the 2013 Mo-Wave Festival and appear courtesy of Kelly O, The Stranger.